THE BEST WATER SPORTS ON THE BEACH
Puerto Vallarta and Riviera Nayarit have become one of the most visited destinations by tourists from around the world thanks to the large number of activities being offered.
Below, I've shared the best water sports on the beach that you can do when you visit these amazing places. You will also know a little about the history of these water sports on the beach. I assure you that you will be surprised with the fourth one.
KAYAKING
Eskimos created the kayak thousands of years ago. It originated in the Arctic regions where they used whale skeletons to build the hull and seal skin to cover it. The initial purpose of the kayak, which literally means "hunter's boat", was to hunt and fish. It began to be used as exercise and recreation in the mid-nineteenth century.
Today, there are various types of kayaks, which are classified by their design and the materials from which they were made. One of the best places to practice kayaking in Riviera Nayarit is Punta de Mita. You can paddle along the coast and appreciate unique views of the mountains from the sea.
DIVING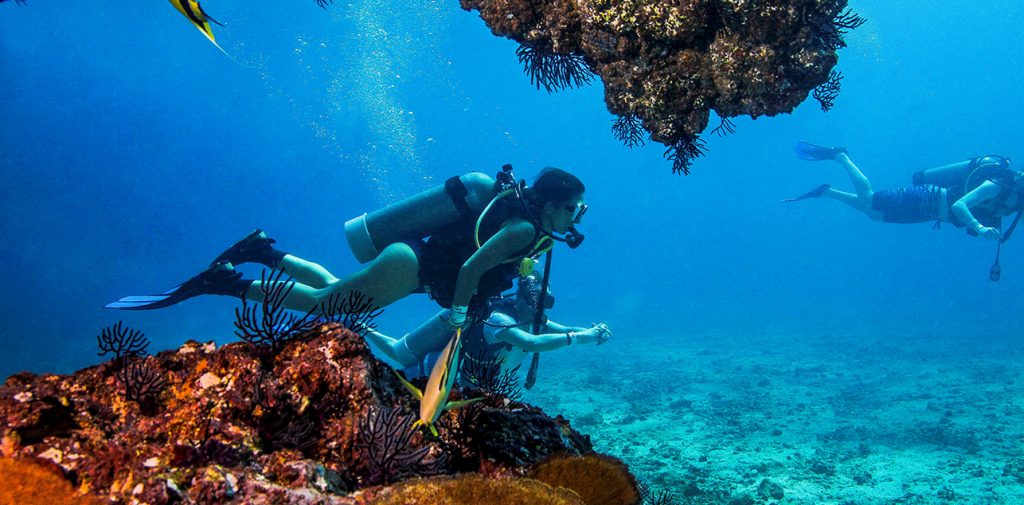 The term scuba diving accurately defines the practice of diving underwater and apnea or freediving is diving without equipment. In 1943, the French Jacques-Yves Cousteau and Émile Gagnan invented the regulators that are currently being used in autonomous diving, both professional and recreational. The technology of the regulator reduces pressurized breathing gas to ambient pressure and delivers it to the diver.
Therefore, divers can breathe normally and independently of cables and tubes of air supply from the surface. Undoubtedly, one of the tourists' favorite places to dive is the Marietas Islands in Riviera Nayarit. You may see some hidden species, such as manta rays, octopus and lobsters.
SURF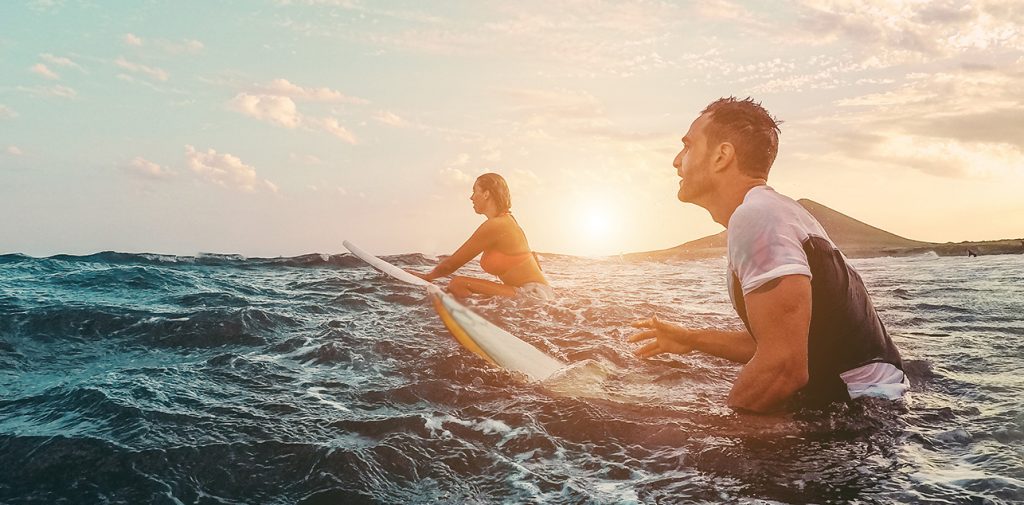 There is evidence of surfing for more than 500 years in the Polynesian islands. In the middle of the last century, this sport gained popularity. During that time, surfers carved boards in solid wood. Later, it evolved into a complete sport where movements, acrobatics and various designs were created. Now, there are short, medium and longboards made with light and resistant materials.
Sayulita is the capital of surfing in Riviera Nayarit. Lovers of this sport come from all over the world to enjoy this picturesque town and its waves. Along its beach, you will find instructors who will teach you to stand on the board. Feel the adrenaline of moving at high speed on the surface of the sea! There are other surfing beaches near to Punta de Mita, such as La Lancha and Punta Burros.
SNORKELING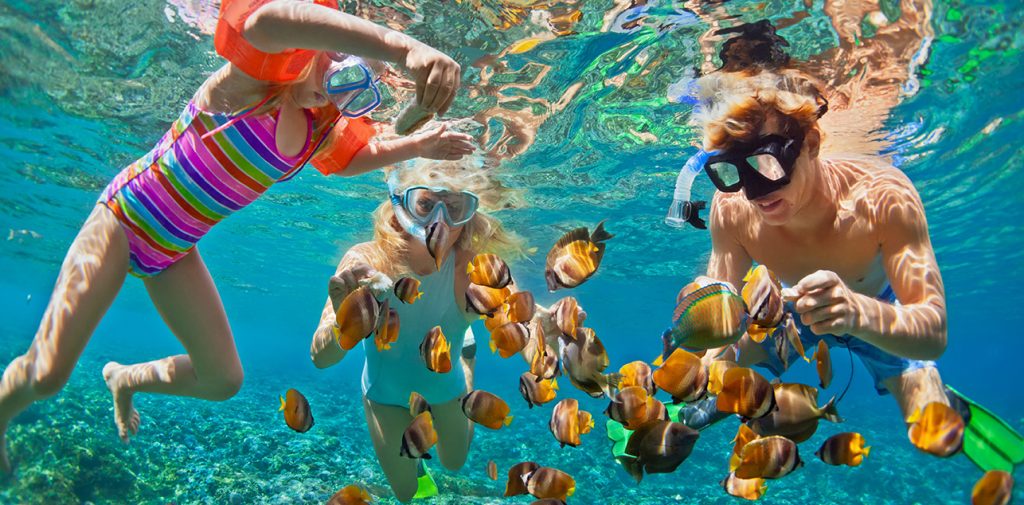 Originally, Schnorchel designated a tube that German submarines of World War II used to feed their diesel engines so that they could navigate just below the surface. Later, throughout the twentieth century, diving masks and short breathing tubes began to become popular, allowing a swimmer to breathe with his face submerged beneath the surface of the water, receiving air through his breathing tube.
The English language then adapted the German word Schnorchel to snorkel. Los Arcos de Mismaloya is the ideal place for snorkeling in Puerto Vallarta and around the Marietas Islands in Riviera Nayarit. Immerse yourself and discover a world of coral reefs, goldfish, sea turtles and other incredible beings.
PADDLEBOARDING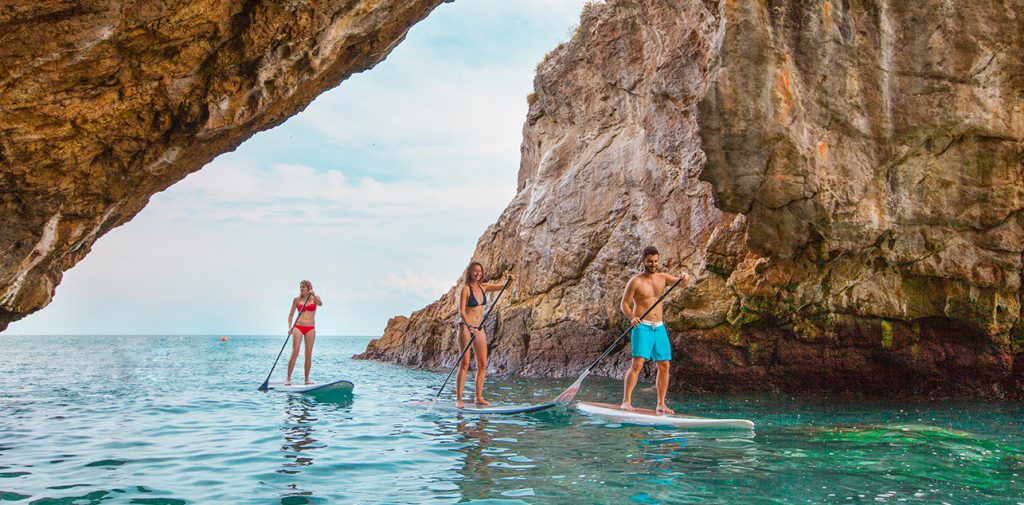 The stand-up paddle (SUP) is a branch of surfing that originated in Hawaii. Unlike traditional surfing, where the surfer waits until a wave arrives, those who practice this modality stand on their boards and use an oar to propel themselves through the water. Variations include paddling in calm waters for outdoor recreation, exercising or enjoying the scenery. You can surf on the waves of the sea and even practice yoga on the board.
There are also speed competitions. In Riviera Nayarit we have great exponents of this water sport, which represent Mexico in international competitions. At Marival Resorts you will have boards with paddles as part of your All Inclusive package.
BODYBOARDING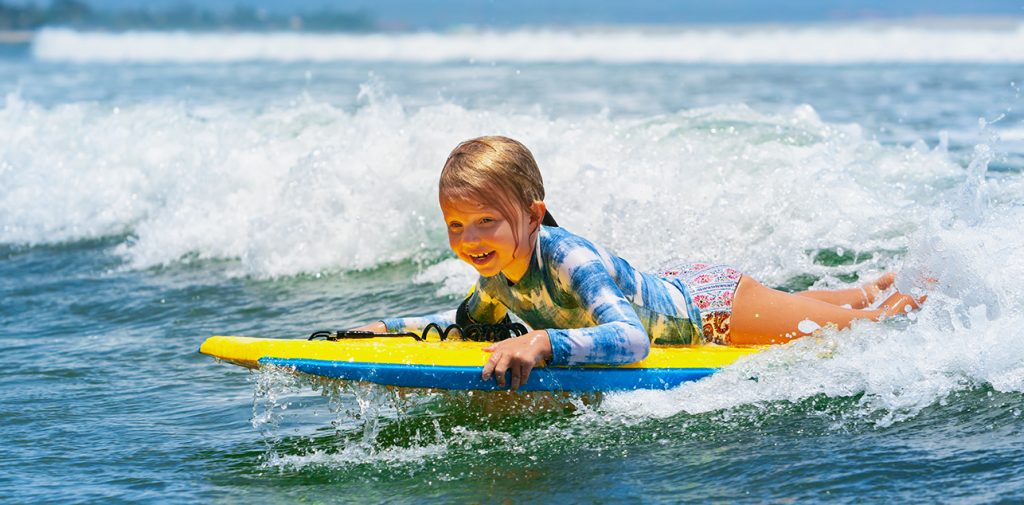 The bodyboard is a water sport based on sliding on the surface of the wave with a shortboard, also known as a boogie board. Its size may vary depending on the height and weight of the user. There are three styles or ways to slide on the board: lying (prone), with a kneeling leg (drop-knee) and standing (stand-up). Of these three modalities, the first is the most widespread and the one that characterizes this sport.
Those who practice this sport in a professional way use fins on their feet to better propel and maneuver the board. In Marival Emotions, Marival Distinct and Marival Armony you can have fun with boogie boards. Once you ride your first wave, you can't stop!
SAILING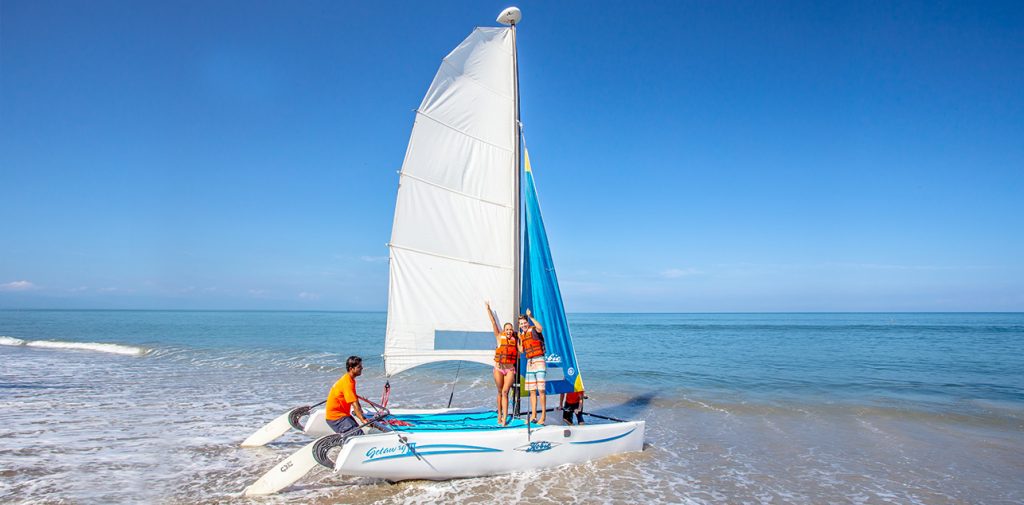 Sailing is a nautical sport that involves controlling the dynamics of a ship propelled only by the wind in its sails. Sailors call sailing competitions regattas. This is where people sail boats as fast as they can. If you are new to the art of sailing, Riviera Nayarit is the ideal place to learn it. With its beautiful coastline, calm waters, light currents and prevailing winds, it offers us the perfect setting for sailing.
In the Marival resorts of Nuevo Vallarta and Punta de Mita you will find a Hobie Cat sailboat that you can use. The Hobie Cat is a small sailing catamaran that is very easy to navigate, so there is nothing to worry about. If it's your first time, you can hire an instructor. Before you know it, you will be sailing alone through Banderas Bay.
OTHER WATER SPORTS
Other water sports are also practiced in Puerto Vallarta and Riviera Nayarit. For people who are more intrepid, there are windsurfing and kitesurfing. In these, great speeds and heights are reached on a board driven by a sail or a kite, respectively. Whatever your favorite water sports, Puerto Vallarta and Riviera Nayarit have them for you.