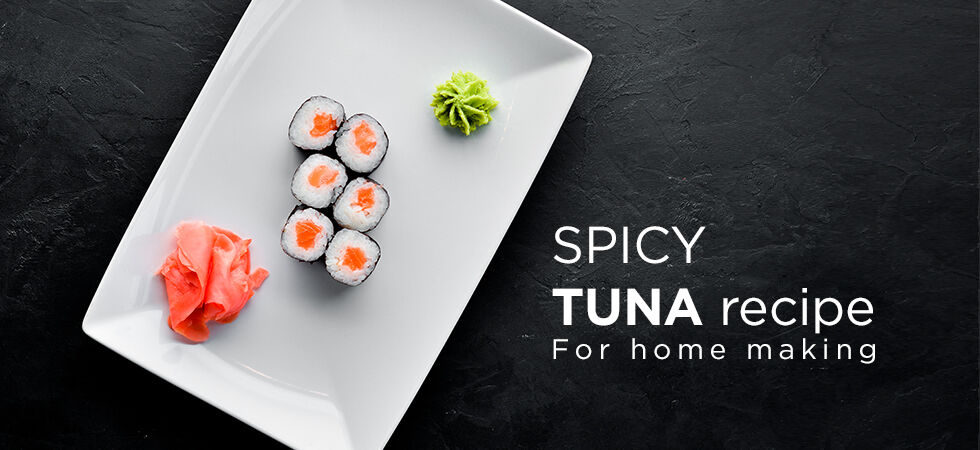 The best Spicy Tuna recipe in easy steps, straight from the kitchen of your favorite restaurant in the Riviera Nayarit.
Today we want to share a recipe that has become a must in any Japanese food restaurant. When it comes to this style of food, there are many spicy recipes from which to choose; however, there is one that occupies an important place in our hearts, of course! We are talking about the Spicy Tuna roll. This perfectly balanced blend of flavors including fresh tuna and a touch of spiciness is not a classic in the Japanese tradition, but it is a classic of the union between Mexican and Japanese cultures. The original recipe was originally created by Chef Masayuki Niikura, one of the co-founders of the famous Nicksan restaurant, and fortunately we don't have to travel to Japan to try this culinary masterpiece, right here in Riviera Nayarit. At the Marival Distinct resort, we can find the restaurant with the original recipe that gave birth to this new tradition.
It is important to note that the Spicy Tuna recipe we share with you is not the original recipe, but a more simplified version that you can follow at home. So, now that you know a little bit of its history, get ready to become a chef for a day and let's get to cooking!
What do you need?
Nori seaweed sheets
Fresh bluefin tuna (about 50 gr.)
1 cucumber
Cream cheese
1 avocado
Sriracha sauce
Sushi rice, cooked (1 cup)
A little bit of wasabi
Ginger
White toasted sesame seeds
Shichimi or Japanese pepper
Soy sauce
1 makisu (bamboo mat)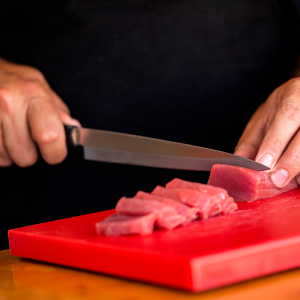 First things first: chop the tuna into small cubes of about 1 cm, and do the same with the avocado. Then, mix it with a tablespoon of sriracha sauce and a little cream cheese, then let it rest in a cool environment.
Next, wrap the makisu with some plastic film to protect it. Extend it on the table and place half a sheet of nori seaweed on top. Take a small portion of rice and spread it uniformly on the seaweed (we recommend wetting your hands before this step to be able handle it easier). You can sprinkle sesame seeds and shichimi to give it color and flavor.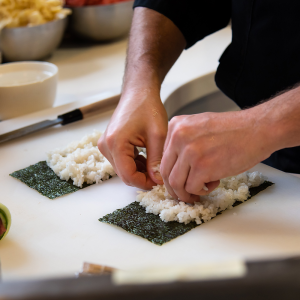 Now is the step that requires all your attention: carefully turn the seaweed and rice to leave the nori seaweed sheet on top and the rice underneath and in touch with the makisu. You can help yourself with your hand palm or the clean half of the makisu to avoid it from breaking or falling apart.
We're almost done! Remember the previous mixture we prepared? Well, now it's time to use it. Distribute the mixture down the center and along the seaweed, forming a line, and then roll it all up with the help of the makisu to form the traditional sushi roll. You can apply some light pressure, but not too much because we don't want to smash the roll, just enough to compress it and to unite the ingredients without messing it up when you split it.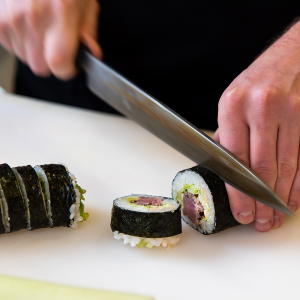 Finally, cut the roll into about eight pieces. We suggest you wet the knife before each cut so it doesn't stick. Finally, you can serve it with soy sauce, wasabi or ginger and enjoy!
We hope you can enjoy the process of preparing one of the best spicy recipes, but above all we hope you enjoy the result, and don't forget to share with us on social media your experience with this Japanese food recipe. We'd love to know how it went.
Have a nice meal!