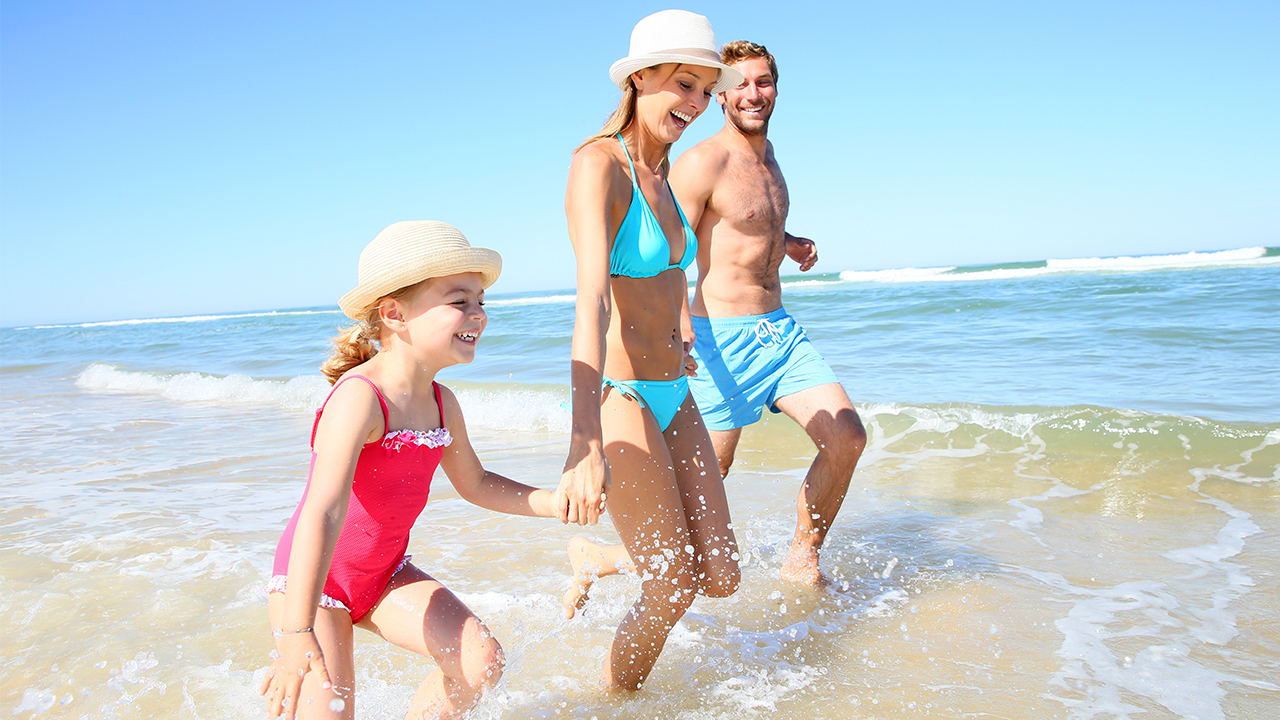 Some people say that a picture is worth a thousand words. I believe a picture can tell you everything! So here is Marival Resorts in 5 pictures.
After selecting the following pictures meticulously, I am sharing the hot spots or the best places in Marival Resorts using only 5 pictures – my favorite is the number three. With every picture, you will realize that each resort has something magical for everyone. You decide which one catches your eye the most!
#1 Marival Armony's Infinity Pool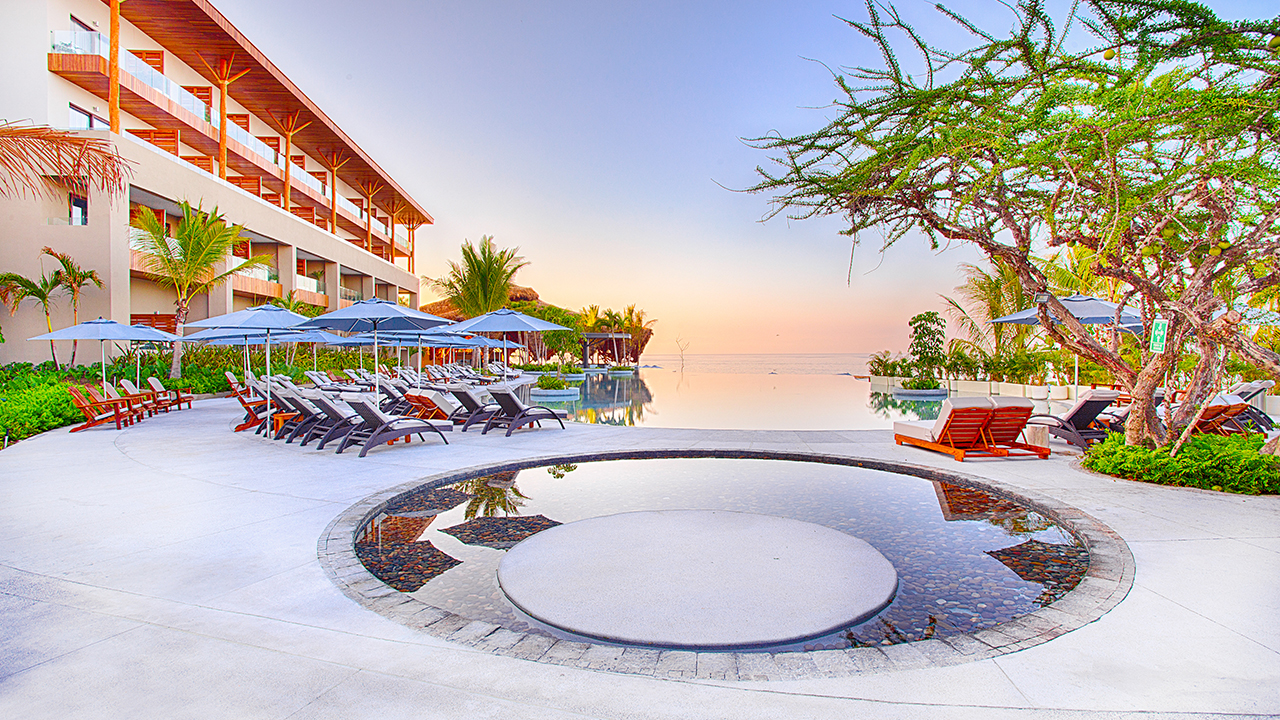 Nowadays many resorts with infinity pools have become very popular, and of course, every photo you take there is not only spectacular, but inspiring. Several vacation properties have undoubtedly been incorporating them into their architecture, so when choosing where to stay, this can help make up your mind.
Marival Distinct, with its Mozzamare beach area, was the first resort within the chain that offered this amenity to its guests, right after Marival Armony included it as part of its incredible amenities, becoming one of the most iconic infinity pools in the area, giving the sensation that you are swimming to infinity.
#2 A Children's Mini Water Park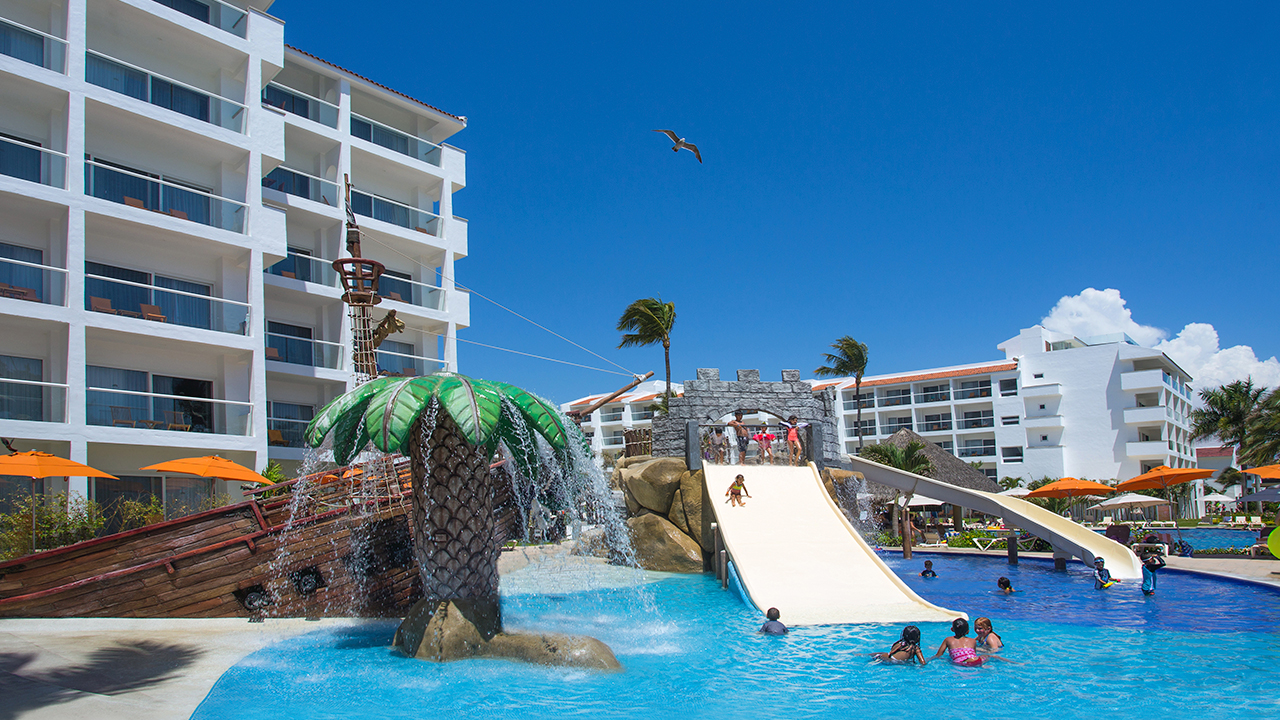 What child doesn't want to feel like a pirate while on the beach? We know that when you are planning a vacation for your family, it must be full of fun, and unforgettable. So if you are traveling with kids, Marival Emotions is the right place to spend a family vacation!
In addition to all the activities designed for the little ones such as the Kids and Teens Club and Marival Kids, the children will have tons of fun in the mini water park in front of the beach; it includes a pirate ship, mini slides and an activities team that will make them remember their vacation as one of the best ever.
#3 The Best Sky Bar In The Bay (Don't blame me, blame TripAdvisor)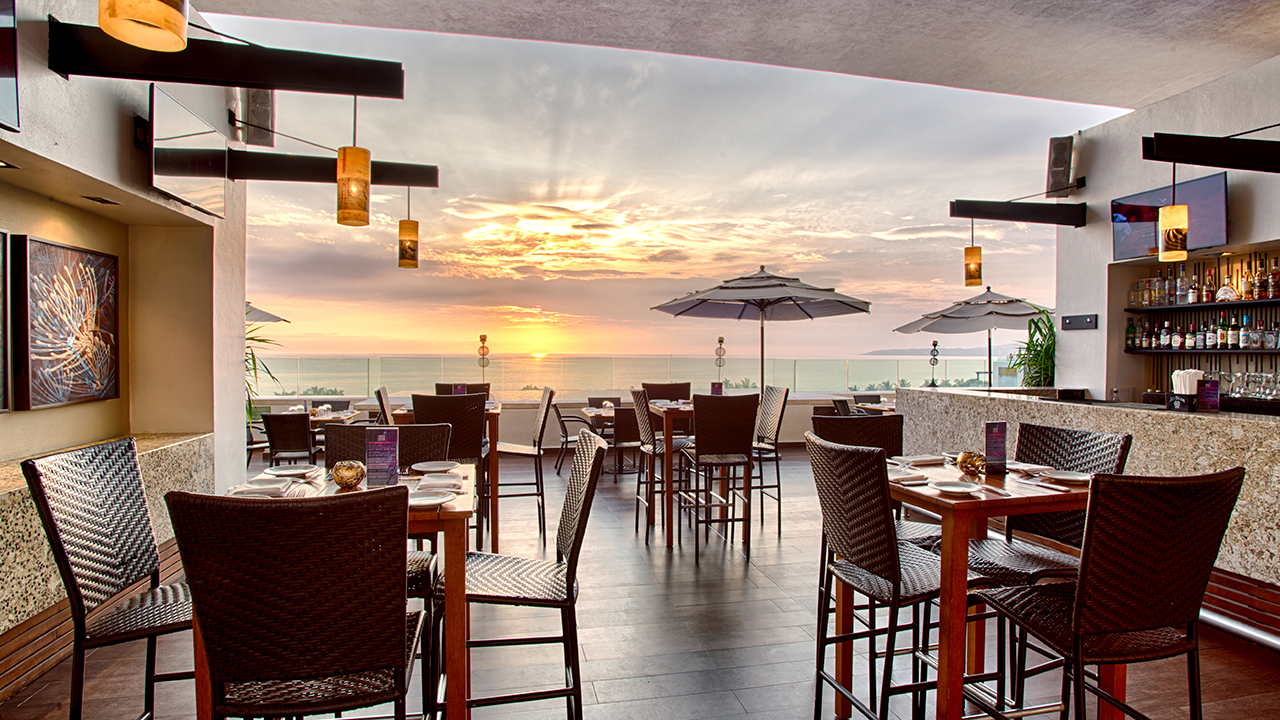 Insú Sky Lounge in Marival Distinct, Riviera Nayarit –now with a new branch of Marival Armony, Punta de Mita–, has positioned itself as one of the best sky bars in the bay, and has well deserved its award given its first class cocktails and delicious tapas, with unique sunsets as a backdrop.
This iconic sky bar is already famous with both local and international visitors, which is why it is worthy of being on the "Marival Resorts in 5 images" list. If you liked this image, imagine what awaits you at Insú at Marival Armony, with stunning views of the Sierra Madre and the Marietas Islands, all in one place. You will have to come discover it …
#4 The Beach Club With The Best Events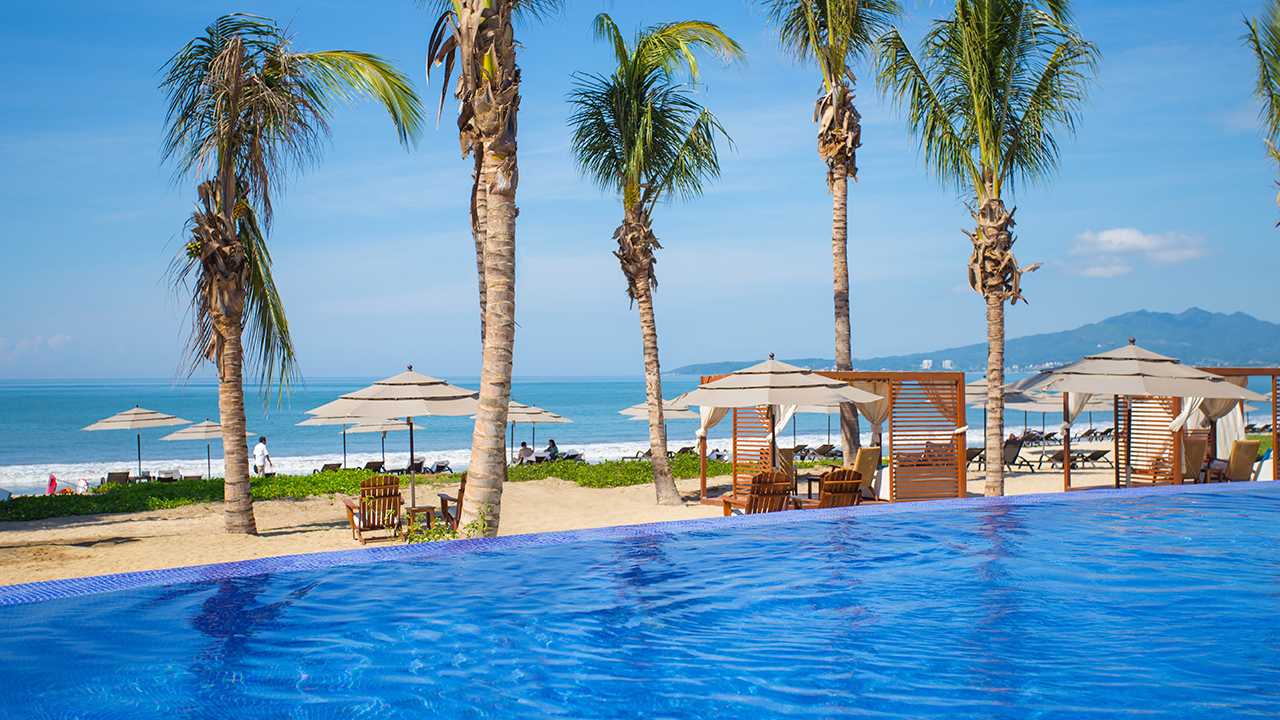 Mozzamare has been positioned as one of the most iconic beach clubs by several instagramers, celebrities and multiple public figures; furthermore, thanks to its privileged location and one of a kind venue, it has hosted countless local and international events.
In addition to the aforementioned infinity pool, the place is filled with light thanks to its colors, vibes, energy and ambience, giving out a sense of calm and tranquility in every corner. Can you imagine laying down in one of its cabins while listening to the waves, enjoying delicious food and refreshing cocktails? I DO!
#5 Seductive Nature And Total Relaxation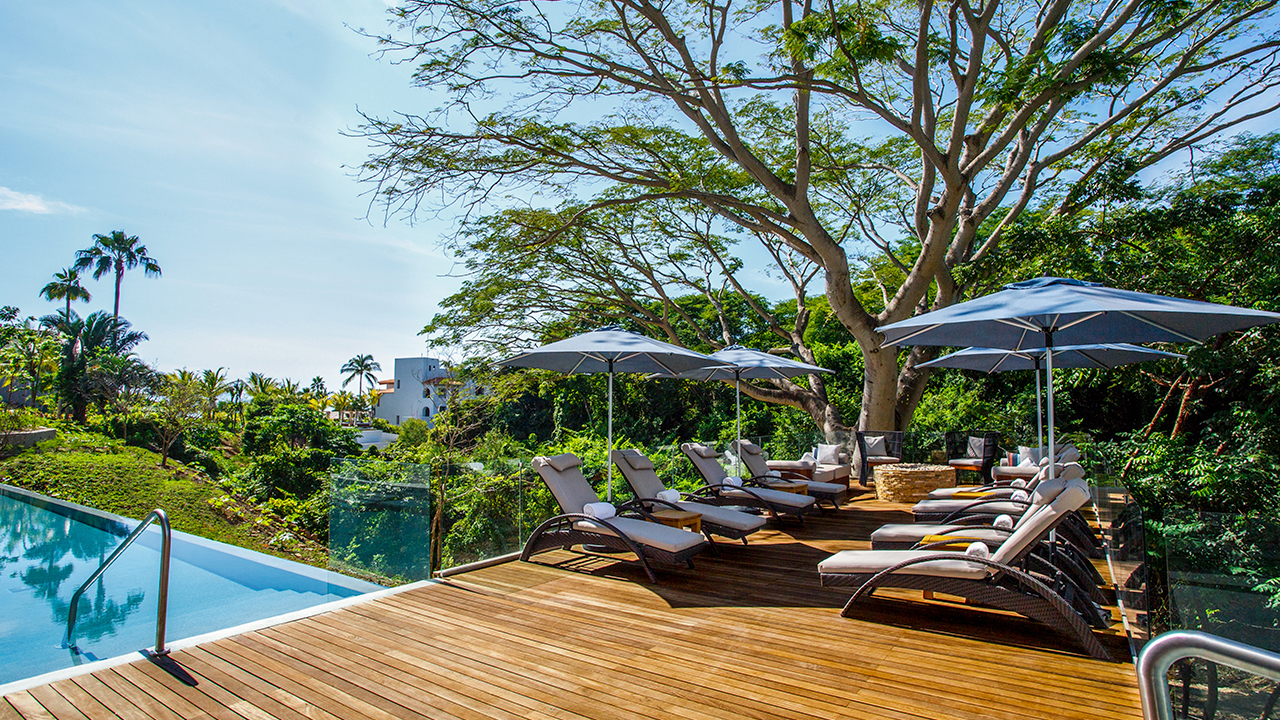 Marival Armony's persona is definitely the exquisite fusion between the abundant nature in its environment and the glorious architecture of the resort. One of the most remarkable elements in the resort is the adults-only area, where you'll be surprised by a very old Parota tree.
If you desire even more exclusivity than just staying at Marival Armony, then you definitely have to try staying in the adults-only section of the resort. Here you can find pools with views of a glen, a fire pit and a beautiful wooden deck with lounge chairs to simply let yourself be carried away by your senses.
Surely after seeing this incredible image gallery, you will have already decided on your favorite resort, whether you are traveling with your significant other, with family or with friends; there is assuredly something that meets all your needs.
Travel worry-free and in a completely safe environment at Marival Resorts, in addition to having the highest standards of quality and great service, they are implementing all the necessary hygiene and safety measures to make your vacation safe. You only have to worry about enjoying everything they have to offer in their all-inclusive plan.