One of the greatest attractions of having a vacation on the coast is the seafood. In Puerto Vallarta and Riviera Nayarit, you can enjoy fresh fish and seafood all year round.
Banderas Bay is a very abundant fishing area. It is home to several types of fishes, including: tuna, marlin, sailfish, mahi-mahi, snook, snapper, red snapper, Pacific sierra, skipjack tuna, and houndfish. Every morning, the fishermen go offshore in their boats and shortly after dawn they return with their precious cargo. Other seafood such as lobster, squid, octopus, shrimp, scallops, clams, and oysters are also extracted from its waters.
Besides being delicious, seafood is rich in proteins, vitamins, and minerals. Above all, they are an important source of fatty acids, such as Omega-3, a fundamental nutrient for the proper function of the brain, nervous and cardiovascular systems, as well as nutrients for better skin care.
In Banderas Bay, you will find that the typical dishes of the Pacific coast of Mexico are freshly prepared from a huge variety of local ingredients. The Vallarta style ceviche is one of the most famous representations of the region. Another is the zarandeado fish, which is covered with a special marinade and cooked on wood. Of course, cocktails and seafood tostadas are not lacking.
Fusion cuisine in Nuevo Vallarta and Riviera Nayarit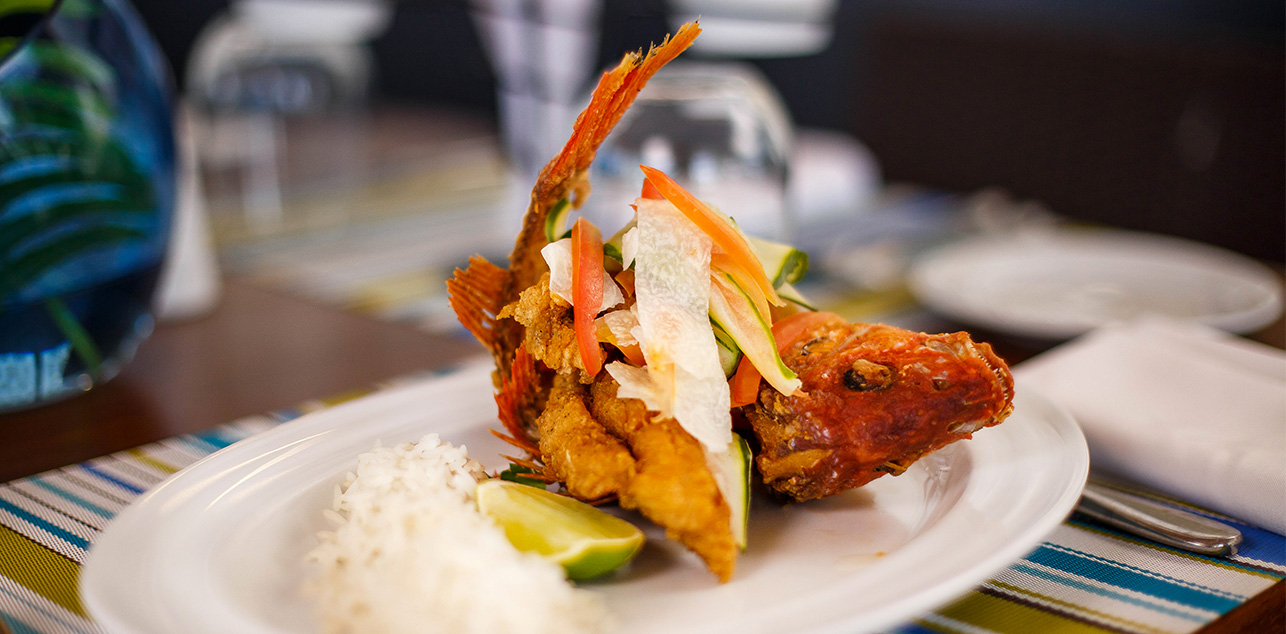 Shrimp, octopus or marlin burritos and Baja California style tacos, with battered fish or shrimp, pico de gallo sauce and cabbage are also popular. Many recipes have been passed from generation to generation and others are born here by the hands of renowned chefs who mix ingredients and fuse kitchens to innovate their own unique creations.
At Marival Resorts, the talented chef Alfredo Jiménez has reinvented the cuisine of the sea, giving his personal touch to traditional dishes thanks to his extensive knowledge of different cuisines of the world and his creativity flair. From salmon burgers to shrimp aguachile made with coconut, tempura shrimp and tuna tartar.
For all those who enjoy seafood as well as preparing it with their own hands, Chef Alfredo has shared a fresh recipe for this summer:
Seafood Ceviche with Mango and Chili
Ingredients
350 g of fresh mango pulp
1 piece of emptied and deveined guajillo chili*
1 piece of emptied and deveined pasilla chili*
10 g of chopped garlic
15 g of chopped shallots
1 branch of thyme
1 g of toasted cumin
Salt and white pepper to taste
Olive oil
*These chilis are not very spicy and provide a lot of color and flavor.
100 g of peeled and deveined shrimp, cooked
90 g of cooked octopus, diced
100 g of cooked bay scallops
1 piece of green pepper, diced
1 piece of red pepper, diced
½ purple onion, diced
125 g of chopped coriander
4 lemons, just the juice
½ cup of mango and chili sauce
Lemon wedges to decorate
2 avocados in segments
Salt and pepper to taste
Cilantro leaves to decorate
Directions
In a thick-bottomed pan, sweat garlic and shallots in olive oil over medium to low heat; once they are translucent, add the two dried chilis and thyme, and continue cooking. Add the mango pulp and cook for 10 minutes; then, add the other ingredients.
Adjust seasoning to taste and liquefy.
In a bowl, add all the ingredients except the lemon wedges, avocado and cilantro to decorate.
Mix well and adjust seasoning to taste.
Serve it in the desired container and decorate it with cilantro, avocado cut into segments and the lemon wedges.
Prepare it at home or enjoy it at lunchtime at Mozzamare Casual Beach Gourmet, the beachfront restaurant at Marival Distinct Luxury Residences. Bon Appetit!