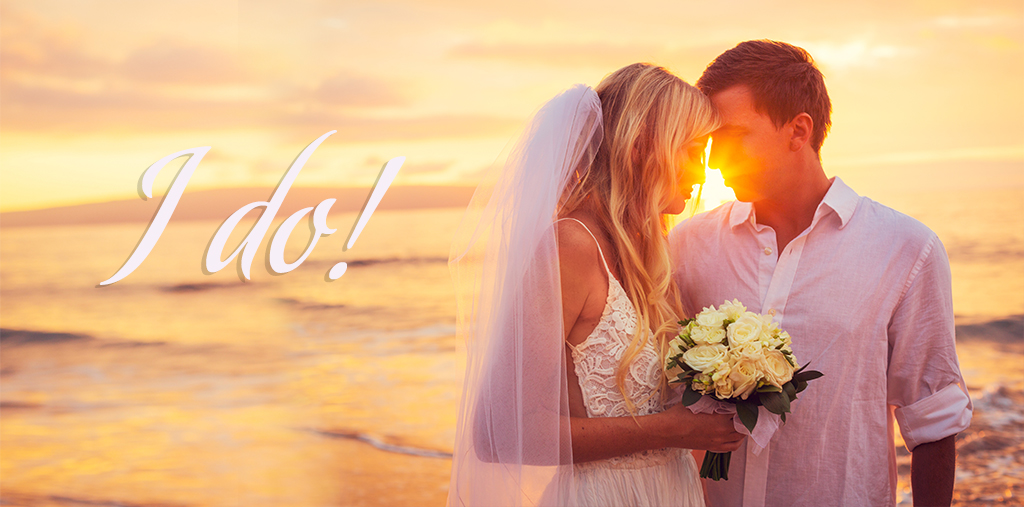 Among the many beautiful places to get married, it is difficult to settle on one. Mexico has historic venues, haciendas, magic towns and, of course, sumptuous wedding halls in the major cities across the country. But none of those scenarios surpass the majestic weddings on the beaches of Puerto Vallarta and Riviera Nayarit. Here is my list of reasons to get married on the beach, and I assure you that after reading number 6, you will be convinced:
1.- Unparalleled landscapes
Yes, the haciendas and magical towns also have them, but in Bahía de Banderas there are so many that it will be hard for you to decide on a spot for your photo shoot. Its combination of mountains and sea give photographers 360 degrees of excellent backgrounds for all the shots.
So you can swear eternal love to your partner with the ocean waves breaking a few meters from you, soft sand under your feet and the sea breeze caressing your faces while your eyes light up against a blue horizon dotted with cotton clouds.
2.- Beautiful sunsets
The sunsets of the bay deserve a special mention. There are so many colors and nuances in the sky, so many varied cloud shapes and configurations, that there are those who compare their appearance with that of capricious works of art made by the greatest artists.
Something that those who have lived here for many years ensure is that you will experience a different sunset every time. Each afternoon, sundown gives us a new, totally unique one. Cirrus, cumulus, strata, and their different combinations are intertwined like brushstrokes in the sky, giving life to ephemeral works of art, an ideal background for your reception that cannot be duplicated.
3.- Dream locations
The options are many, but few offer unparalleled and distinguished experiences. Here are my suggestions for places to say "I do": if you want a perfect mix between nature and luxury, with absolute tranquility on a beach of smooth sand with the blue sea, the best option is Rancho Banderas® Luxury Resort & Suites in Punta de Mita, and if luxury and comfort are your style, Mozzamare Casual Beach Gourmet is the perfect place, located at Marival® Residences Luxury Resort in Nuevo Vallarta.
4.- Holidays for your guests
Regardless of where your guests are coming from, they will always appreciate you giving them a good reason to visit our destination. More than one will surely take advantage of the opportunity to spend a few days in this paradise before or after your celebration.
Whether they are visiting for the first time or have been here before, this paradise will never cease to amaze them with countless natural attractions and activities for the whole family: ATV, horseback and buggy tours, mountain treks, zip-lining, boat trips, scuba diving, snorkeling, parachuting, mountain biking, surfing, windsurfing, paddle board, etc.
5.- All Inclusive Weddings
Usually, you have to worry about renting the wedding hall, hire a catering service, look for a photographer, a florist, an audio system, tables, chairs, and the list never ends… Being a destination specialized in weddings, Bahía de Banderas offers packages for weddings with everything included.
My recommendation is to approach the leading catering companies (they have the best wedding packages that fit all needs and requirements) with an expert and dedicated team that genuinely does what they are passionate about. When they organize a wedding, they strive to fulfill every detail with only one objective in mind: to see the couple's dreams come true.
6.- Your wedding can be free
Yes, you read it right; your wedding could be a gift. Marival® Resorts offers different accommodation options for your guests and, depending on the wedding package you choose and the number of rooms occupied by your guests covering a pre-set minimum, the wedding package could be FREE.
In other words, your wedding package with EVERYTHING INCLUDED could be completely free when you host a certain number of your guests in these hotels.
7.- Your honeymoon in the same place
Of course, another great advantage is that you will already be in the perfect location for your honeymoon. Picture yourself with your other half visiting The Beach of Love of the Marietas Islands together; touring the golden sand beaches at sunset, letting the sea caress your feet; dining under the stars with incredible views of the bay at the best restaurants in the area.
The culinary offer of Puerto Vallarta and Riviera Nayarit is one of the most varied of the country, with restaurants offering many cuisines from around the world and, of course, several specialized Mexican and seafood dishes. There are also countless places to have fun at night.
TIPS FOR ATTENDING A WEDDING AT THE BEACH
To get the most out of a wedding at the beach, I offer a few recommendations:
Wear breathable clothes –preferably linen or cotton– in light colors.
Put on a good sunscreen before leaving and, if your attire permits, wear a hat.
If you are wearing make-up, use just a little and acquire a sunscreen that can be used as a base for makeup.
If the venue does not have air conditioning, carry a hand fan with you.
Hydrate well before the ceremony.
Take a pair of flat shoes in your car or handbag to walk on the sand or in case you get tired of dancing.
And at last, but not the least… Enjoy the party and the beach!